Full Stage 1 for Twin-cam and Sportsters from
£640*

inc labour

Hi-flow air cleaner kit, S&S slash cut slip-ons and stage one direct EFI download. All done while you wait.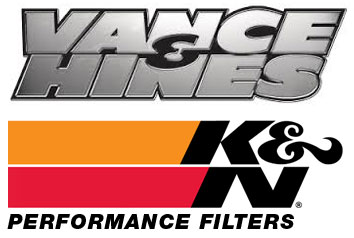 How to get more power is one of the most frequently asked question received about improving a Harley's performance , so if you're looking for some more 'get up and go' the answer is to move up to the next 'stage'… or a Stage 1 upgrade kit to be more exact, let's start with the basics of a Stage 1 upgrade.
You've probably heard terms such as Stage 1, Stage 2, etc. Now depending on who you ask, a Stage 1 upgrade could be anything from an exhaust upgrade to an EFI upgarde. With that said, a Stage 1 upgrade consists of the following:
Free breathing air cleaner.
Free breathing exhaust.
Remapped EFI download.
Free breathing air cleaner. This is the simplest upgrade to perform for most Harley owners we changing the air cleaner to a K&N, these allow you to use your stock cover but the difference over stock is amazing.
Free breathing exhaust. As with the air cleaner this upgrade can be simple or extreme. We choose to use your stock pipes and go with slip-on mufflers. These maintains a stock look, add plenty of performance, full systems are also available but will cost more.
Remapped EFI. Once your engine is breathing it's going to need to do a better job at providing a stable fuel mixture. Your EFI will need to be corrected to compensate for how differently the engine now breaths, we will re-program your bikes fuel injection map to instruct it to run correctly for your stage 1 upgrade, once done we will supply you with a dongle which stores you bikes previous and new EFI maps.
*This price is for a Sportster Stage One Kit please contact us for an instant quote for your bike.